–        Intelligent Pigging
–        Cleaning pigs
–        Displacement Pigging
–        Batch Pigging

To transport gases and liquids over different distances, pipelines are the most efficient and least risky method. Depending on the purpose, pigs in various designs and materials are used during pre-commissioning, maintenance and decommissioning to clean, inspect, empty or separate the pipeline.
Engineering
When pipelines are designed, the engineer will have to make choices in the type of material, such as:
Carbon steel;
Stainless steel;
Duplex;
HDPE;
PVC;
GRE;
And many more.
Additional the following subjects are important characteristics of a pipeline:
the amount of bends and the radius of the bends;
type of valves;
internal diameter;
pressure class;
necessary accessories;
constrictions (reducers).
The above mentioned subjects are necessary to ensure that the specific product flows optimally from producer to customer. But is the pipeline piggable? This means whether the pipeline is designed in such a way or that the pipeline can be temporarily modified (for example by using temporary fittings from TECCURO) to move a pig through. TECCURO's management & engineering team can provide you with advice to create a piggable pipeline.
Pigs
Pigs are special designed tools that are sent through the pipeline for a specific purpose. These pigs are propelled via the product flow or with the help of an external pump. Originally, pigs were designed to remove deposits and debris that can obstruct or even block the flow in a pipeline. In combination with new techniques, pigs are now also used for various other purposes. Each pipeline has its own characteristics that affect how and why pigs are used. There are basically three reasons for pigging a pipeline:
To separate products from each other (Batch pigging, Displacement pigging)
To clean the pipelines (cleaning by pigging)
To inspect the integrity of the pipelines (intelligent pigging)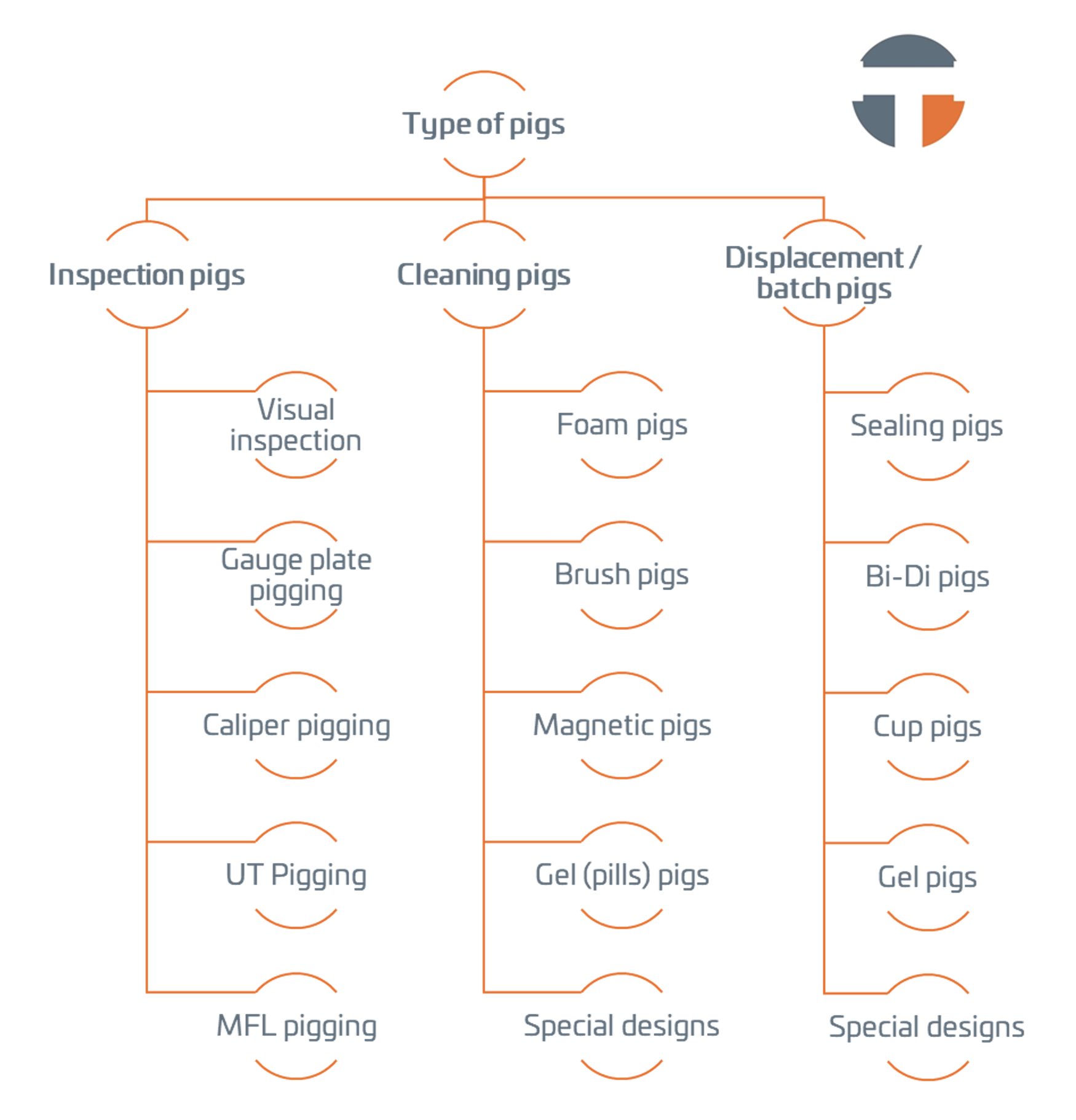 Pig traps
There are many situations in which a pipeline is classified by the customer as "non-piggable", but often TECCURO can pig these using temporary equipment.  If during the construction or renovation of a pipeline no pig traps (launcher or receiver) are available or present, TECCURO can supply temporary pig traps. In this situation we ensure you that the pigs can be sent safely and quickly through the pipeline.
Mobile pumps
In some cases it is necessary to replace the product (e.g. petrol, diesel, kerosene, etc.) in the pipeline with another product, like nitrogen (Displacement pigging). In this case we need an external pump unit. Sometimes it is not possible to use the pipeline's fixed product pump to move the pigs. In this case TECCURO can offer support by deploying mobile water pumps, nitrogen pumps and compressors in order to carry out the planned pigging activities.
Pig tracking
In order to perform a successful pigging operation, we want to have as much control as possible over the pigging process. By knowing where the pig is at all times, TECCURO is in control and is able to anticipate undesirable situations. Pig traps are often equipped with pig signallers. These mechanical check points visualise that the pig has passed. Pig signallers are not always installed on a pipeline. In those cases TECCURO can supply a temporary transmitter in almost any pig. This transmitter sends out a signal through the pipeline wall to the surface where a receiver registers the signal. These receivers can be manual, where an operator has to register the passing pig, or automatic. The automatic receivers can send a message using the GSM network so the pig can be monitored remotely.
Bekijk ook andere diensten